The right woman for the job
Wellington Oaks' Executive Director Dee Dee Barnes likes her job and loves her residents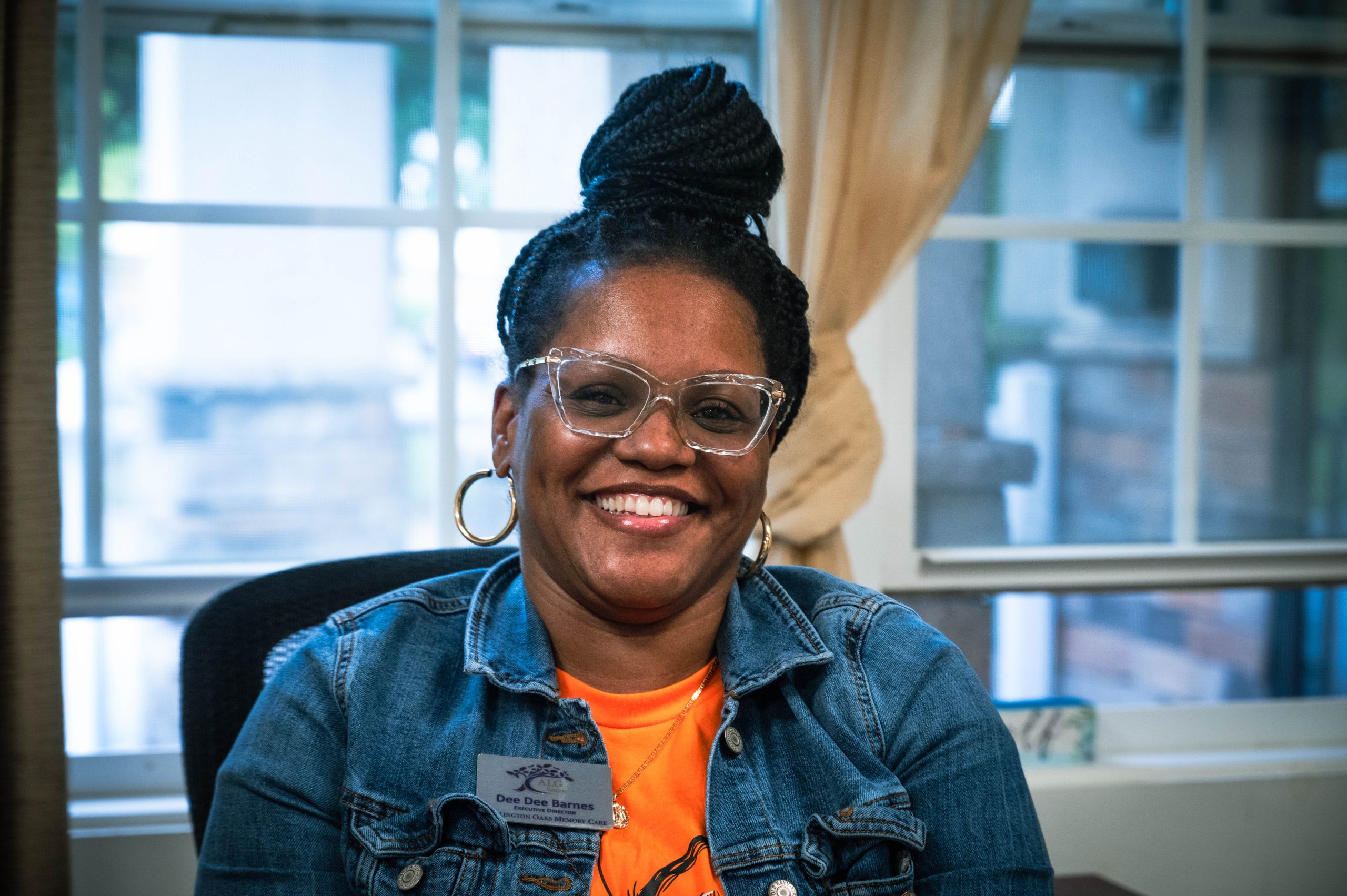 I takes a special person to lead a top team tasked with providing daily care for seniors — especially when those seniors are suffering from memory-related conditions including dementia and Alzheimer's disease. Wellington Oaks' Executive Director Dee Dee Barnes is the right woman for the job. 
When you stroll the hallways at Wellington Oaks one of the first things you'll notice is the artwork. It's a collection of local landscape photography highlighting the best Greensboro has to offer — and the woman behind the lens was Dee Dee. She wanted her residents to feel comfortable amid familiar images, so she hit the streets with her camera in tow and made it happen.
Another thing you'll notice is laughter. That's because Dee Dee is sharp, funny, and loves taking the opportunity to bring a little sunshine into the lives of her residents and staff. It's a way of life she learned when she was growing up in Jamacia, Queens, New York. Along the way she also came to have a deep respect for healthcare workers.
"My mom was a nurse, my grandmother was a nurse until she retired," she said.
Dee Dee moved to Greensboro when she was in 10th grade. She's a '99 Grimsley High School grad, and that's where she earned her Certified Nursing Assistant license. After high school she worked in skilled nursing for three years before transitioning into the automotive world and working at local car dealerships, but her original drive to work in healthcare persisted. 
"Your elders have a voice that cannot be heard, and I wanted to be their voice," she explained. 
That drive to serve seniors motivated her to pursue additional training in the health care field, and she earned both her bachelor's and master's degrees in healthcare administration from Ashford University. 
Dee Dee began her career as a Business Office Manager in an assisted living community. When she was promoted to Executive Director, she learned that her calling is in serving residents with memory impairment. She likes working with memory care residents because they need more care — and when the needs are greater, she's able to give more of herself.
Coming from a hard-working background and learning from the example of her mother and grandmother helped Dee Dee develop her own high standards and tireless work ethic. 
"I do whatever needs to be done — and that includes laundry, helping out in the kitchen, attending to residents, whatever it is," she said. "The way I was raised, if you see something, you fix it." 
She has two children: a 22-old-son who's attending NC A&T, and a 12-year-old daughter. They keep her busy and make her proud. But she loves her residents too, and admits that she misses them when she's not working — even when she's on vacation.  
"At the end of the day, this is somebody's husband, father, mother, wife, and I'm going to do right by them," Dee Dee said. "I love it here."